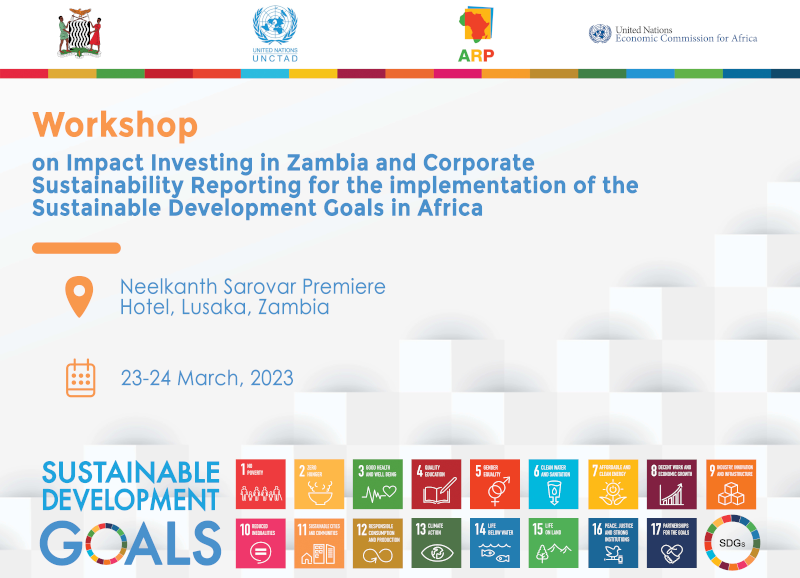 UNCTAD and UN DESA in collaboration with Regional Economic Commissions, including ECA are currently undertaking the implementation of a Development Account project entitled 'Toward Integrated National Financing Frameworks'. Zambia is one of the two beneficiary countries of the project in Africa. The project aims to support selected countries to mobilize and align financing with the national sustainable development priorities, in particular addressing the impact of the COVID-19 pandemic on both financing needs and on the availability of public and private financing for sustainable development. The project also aims to foster regional and global knowledge exchange, ensuring peer learning at the regional level and knowledge transfer at the global level, to better link global policy processes to the national and regional implementation.
As part of the project activities, UNCTAD supports countries in their efforts to assess the contribution of the private sector to the implementation of the SDGs through the development of Sustainability/SDG frameworks for company baseline reporting and capacity building to measure the core SDG indicators. And for this purpose, in 2016 it developed its Guidance on Core indicators for entity reporting on contribution towards implementation of the Sustainable Development Goals (GCI) and a related Training Manual. When sustainability information is consistently prepared, it can be useful for comparison and progress tracking and has the potential of informing investors on how to allocate their funds in a responsible manner to contribute to sustainable development. In addition, UNCTAD established the African Regional Partnership that acts as a bridge for sharing knowledge among African countries, as well as between the African region and international organizations in the field of sustainability reporting.
ECA is collaborating with the Government of the Repubic of Zambia and other relevant partners on this project. In March 2022, under the same project, UNCTAD's Division for Africa, Least Developed Countries and Special Programmes (ALDC) partnered with UNECA to deliver a training on Domestic Resource Mobilization and Illicit Financial flows in Zambia. A Sensitization Workshop was also held in December 2022 focusing on Leveraging private sector engagement in implementing the 8th NDP and achieving the SDGs. The workshop was organised by UNECA in collaboration with the Ministry of Finance and Planning, the Zambia Chamber of Commerce and Industry and the United Nations Development Programme.
According to the Addis Ababa Action Agenda, mobilising domestic resources is a key source of finance for sustainable development. In recognistion of this global framework, ECA seeks to stimulate public- private dialogue on the challenges and opportunities of impact investing in Zambia to support the implementation of SDGs. In doing so, ECA intends to also engage the Southern African Development Community (SADC) National Planning Entities (NPE) Platform.
---
Document