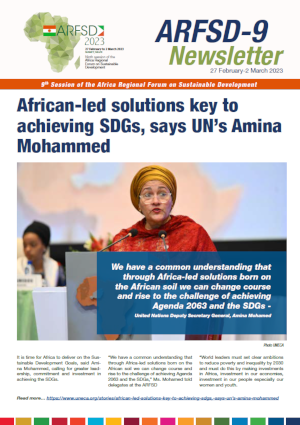 ---
The Ninth session of the Africa Regional Forum on Sustainable Development (ARFSD-9) will be convened in Niamey from 28 February to 2 March 2023. The Forum is organized jointly by the Economic Commission for Africa (ECA) and the Government of Niger, in collaboration with the African Union Commission, the African Development Bank and other entities in the United Nations system. 
The theme of the ninth session of the Regional Forum is "Accelerating the inclusive and green recovery from multiple crises and the integrated and full implementation of the 2030 Agenda for Sustainable Development and Agenda 2063." During the session, an in-depth review will be undertaken of progress made in the implementation of five selected Sustainable Development Goals, namely Goals 6 (clean water and sanitation); 7 (affordable and clean energy); 9 (industry, innovation, and infrastructure); 11 (sustainable cities and communities); and 17 (partnerships for the Goals) and the corresponding goals of Agenda 2063. 
The Regional Forum will also serve as a platform for the sharing of experiences, good practices and lessons learned in efforts to implement the two agendas. In addition, participants will identify and build a consensus on policy options and actions, to be adopted in the form of key messages and a declaration, to drive actions towards accelerated, inclusive, and green recovery from the multiple crises alongside the full implementation of the two Agendas. The key messages and the declaration will also serve as the collective African input to the 2023 high-level political forum on sustainable development, to be held in New York from 10 to 20 July 2023; and Sustainable Developments Goals Summit at Heads of State and Government high level week in September 2023. 
The Regional Forum will bring together ministers and other high-level policymakers and experts from Governments and intergovernmental organizations, the private sector, civil society organizations and other major groups, and international development partners. 
The Regional Forum will be held in a hybrid format, allowing for both in-person and online participation. The details for both options will be made available as soon as they are finalized.