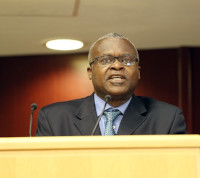 Professor Bartholomew Armah is currently the Director a.i. of the Macroeconomics and Governance Division of ECA. Prior to joining the UN Economic Commission for Africa, he was a tenured Professor at the University of Wisconsin-Milwaukee. He recently served as the Policy and Planning Coordinator of the UN Secretary General's Transition Team for the reform of the development system.
He served in several capacities in the UN including as a Policy Adviser in UNDP's Crisis Prevention and Recovery Bureau and as Chief of Development Planning in UNECA's Macroeconomics and Governance Division where he spearheaded the design of ECA's Integrated Planning and Reporting Tool which maps the SDGs to Africa's Agenda 2063 and automates the alignment of planning frameworks to both commitments.
His latest publication, "Prioritizing interventions for sustainable structural transformation in Africa: a structural equation modelling approach" provides a framework for policymakers to optimally sequence economic, social and environmental policy interventions for the achievement of sustainable structural transformation.
---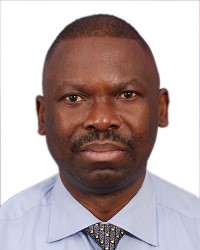 Allan Cuthbert Kenneth Mukungu holds a PhD in Economics and currently leads the Economic Governance and Public Finance Portfolio in the Macroeconomics and Governance Division of the UN Economic Commission for Africa. He has held various positions in the UN Secretariat Peace-keeping and Political Missions as well the Economic Commission for Africa, served with donor agencies in the UK, lectured in UK universities and served as an Economist of the Government of Uganda.
---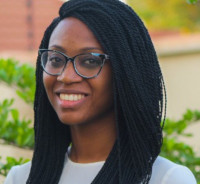 Ms Chenai Mukumba is currently the Policy Research and Advocacy Manager at Tax Justice Network Africa (TJNA). Chenai is responsible for leading the policy unit in research coordination, policy engagement at regional and global levels and technical backstopping of TJNA's national-level advocacy. She brings to TJNA expertise in international trade and Africa economic governance, with experience in research coordination, policy advocacy and leadership development. Before joining TJNA, Chenai served as the Director of the Consumer Unity and Trust Society (CUTS) International, Lusaka, a research and advocacy think tank with offices in Africa and Asia.
---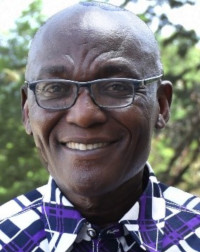 Joseph Atta-Mensah is a Principal Policy Adviser in the Macroeconomics and Governance Division at the United Nations Economic Commission for Africa (UNECA). Joe responsibilities include ensuring that the key policy findings in ECA research are used to support policy implementation at national, sub-regional and continental levels.  This is achieved by leading teams strengthening the capacity of African Union and its organs, including member States, the African Union Commission and the regional economic communities (RECs) in deepening and advancing the African Union's agenda of continental integration. Joe was instrumental in AU's work on the Financing of Union. He also works on issues of macroeconomics, monetary economics and economic models. Joe leads teams in providing policy advisory services to national, sub regional and regional institutions, and assist them in the formulation of strategies, programmes and projects on macroeconomics and monetary economics. Joe also worked with his colleagues on the regional coordination mechanism (RCM), which brings the UN together to support the African Union. Prior this position, Joe was the Director of the Office of Strategic Planning and Programme Management, where he supervised programme planning and policy coordination as well the monitoring and evaluation of ECA's programme of work. Joe has also served as the Director of Regional Integration, Infrastructure and Trade at UNECA where he focused on research and analysis on regional integration, infrastructure and trade policy issues of the African continent. He has also advised governments, the Regional Economic Communities (RECs) and other stakeholders on matters pertaining to Regional Integration, Infrastructure, Trade and Macroeconomics Issues. Joe has represented UNECA at Summits of African Heads of State, meetings of African Ministers and other high-level conferences and meetings within and outside Africa. Before joining UNECA in July 2004, Joe worked as a Senior Economist at the Bank of Canada for 10 years. Joe holds a doctorate degree in Financial Economics from the Simon Fraser University in British Columbia, Canada and has a number of refereed scientific articles under his name.
---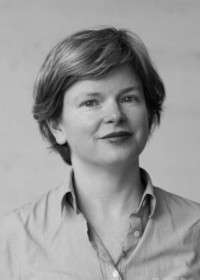 Elizabeth Stuart is Executive Director of Digital Pathways at Oxford and previously performed the same role for the Pathways for Prosperity Commission, which was co-chaired by philanthropist Melinda Gates, tech entrepreneur Strive Masiyiwa and Indonesian finance minister Sri Mulyani Indrawati.
Before joining the Blavatnik School of Government, Elizabeth was director of growth, poverty and inequality at the Overseas Development Institute (ODI); director of policy and research for Save the Children UK; and spent seven years in Washington DC running the Oxfam International office.
Elizabeth was formerly a financial journalist for the Guardian newspaper and BBC. She has an undergraduate degree in modern languages, and masters degrees in literature and politics.
---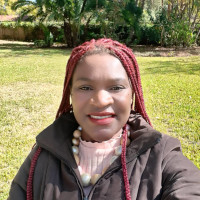 Janet Zhou is the current Executive Director of the Zimbabwe Coalition on Debt and Development (ZIMCODD). Prior to this role, she served as the Programmes Director for ZIMCODD.  She also served as ZIMCODD's Southern Regional Programme Officer.  Janet holds a Master of Science in International Relations and Bachelor of Science Degree in Politics and Administration from the University of Zimbabwe amongst other professional qualifications.  Janet is highly experienced with 14 years' experience in the NGO sector both at national and SADC level, she has vast experience in public finance management, International development financing and development of people centred debt management frameworks. In her different capacities in the economic governance sector she has been able to produce and contribute to knowledge generation products in the form of policy briefs of debt management, social effects and politics  of debt, debt facts sheets that policy makers and interested citizens have used to engage and build the debt justice movement not only in Zimbabwe but in the SADC region as well.  She is a confident and practical human rights defender who is self-driven to become an efficient and effective professional capable of monitoring, analysing and advising on developmental issues, advocacy and influence of policies at all levels. She currently sits in a number of boards and leads in a number of citizens' initiatives such as the Citizens Cabinet, the Oxfam Zimbabwe Inequality Report Reference Group among others.
Her interests are in transformational leadership, organisational development, human rights-based frameworks, building citizens agency and policy advocacy. She is an avid social and economic rights defender who is fearless to put herself in the front lines for social and economic justice for all. She has worked on opening up of democratic spaces for often marginalised groups such as women and youth, particularly building a voice on accountability in loan contraction processes at the municipal and national levels and the general public finance management. She has facilitated both citizens led and high-level policy platforms to influence policy with some notable changes being recorded along her professional career journey.
---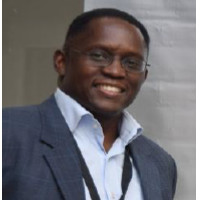 Michael Sudarkasa is the CEO of Africa Business Group (ABG) (www.abghq.com), a South Africa based continentally active, African economic development company. Founded in 2005, ABG focuses on three key areas: 1) economic and business development consulting, 2) agriculture, tourism and renewable energy projects, and 3) capacity development. The Group specializes in the areas of private sector development, trade and investment within Africa and between Africa and the global business community. ABG is a strategic advisor to the African World Heritage Fund, an African Union and UNESCO supported body that supports 145 world heritage sites across Africa. In January 2020, ABG was also appointed to serve as the Country Coordinator – South Africa, Eswatini and Lesotho for the Private Financing Advisory Network (a global network of climate and clean energy financing experts) established by UNIDO and REEEP; and in April 2020 ABG was appointed to serve as the Southern Africa Regional Coordinator of the UNDRR's private sector network, ARISE. For young agripreneurs, ABG also has designed and manages the Global African Agribusiness Accelerator Platform (www.gaaap.biz) as the company's principal capacity development initiative.
A U.S. commercial attorney by training, Michael has lived, travelled, and worked in 50 countries around the world (including 35 in Africa), and is the author of several publications, including: The African Union Commission's Africa Business Directory: Toward the Facilitation of Growth, Partnership and Global Inclusion (African Union, 2014), A Field Guide to Inclusive Business Finance (UNDP 2012) and Investing in Africa: An Insider's Guide to the Ultimate Emerging Market (John Wiley & Sons, August 2000). Michael currently serves as the Chair of Impact@Africa, a continentally focused impact investment ecosystem development platform, as the sole sub-Saharan Africa representative on the global board of the UNDRR's Private Sector Alliance for Disaster Resilient Societies (ARISE), as a member of the University of Michigan Provost's Advisory Committee, and as Chair of the Advisory Board of the African Studies Center of the University of Michigan. He holds a B.A. degree from the University of Michigan-Ann Arbor (High Honors in History), a J.D. degree from Harvard Law School.
---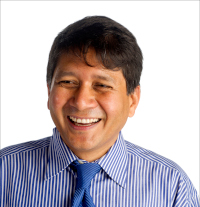 Nir Kshetri is Professor at University of North Carolina-Greensboro He has authored ten books and more than 150 academic articles. His works have millions of readers worldwide. Nir and his work have been featured by hundreds of media outlets worldwide such as Wall Street Journal, Foreign Policy, Public Radio International, Scientific American, Bloomberg TV, Channel News Asia, CBS News, Money, TV Mundo (Peru), ABF TV (Brazil), Fortune, Time, Fast Company, Forbes, Christian Science Monitor, SF Gate, U.S. News & World Report, New Boston Post, Observer, International Business Times, Business Standards, Money, Slate and Salon. He has provided consulting services to Asian Development Bank, various UN agencies and a number of private companies. In 2018, he gave a TED Talk about the potential roles of cryptocurrencies in fighting poverty (https://www.youtube.com/watch?v=WDo_Jlov9R4) .
---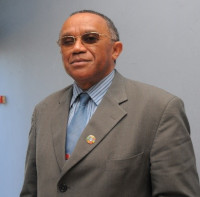 Professor Victor Harison holds a PhD in Mathematical Sciences, University of Antananarivo.
He is currently Commissioner for Economic Affairs Department of the African Union Commission since August 2017. Previously he held the positions of Director General of the National Institute of Accounting and Business Administration (INSCAE), Antananarivo and Director of Studies and Programming, Ministry of Higher Education and Executive Secretary of the "Human Resources Development" project, administered by the World Bank.
In addition, he was Professor of Mathematics, Leadership, Organizational and Project Management. He conducts research activities such as Thesis Director in Mathematical Sciences and Management Sciences.
---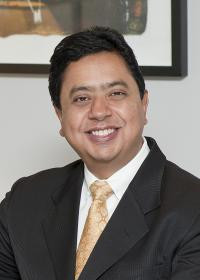 Sanjay Pradhan joined the Open Government Partnership in 2016. Sanjay supports the countries, local governments and thousands of civil society organizations working to make governments more open, participatory and less corrupt. He leads OGP's policy dialogue with Heads of States, senior ministers and civil society organizations across the partnership, and serves as OGP's global spokesperson.
Bringing a wealth of open government and innovation experience to the role, he previously served in three senior positions at the World Bank: as the Vice President for Leadership, Learning and Innovation, the Vice President of the World Bank Institute, and the Director for Governance. While at the World Bank, Mr. Pradhan tirelessly promoted open development. He led the World Bank's Governance and Anticorruption Strategy, launched the Global Partnership for Social Accountability, incubated ICT-mediated citizen feedback to improve governance, initiated Open Contracting with Partners, and rolled out a flagship Collaborative Leadership for Development program to help government and civil society leaders undertake collaborative actions. During his tenure at the World Bank, Sanjay gained extensive experience working in Africa, South Asia, Europe and Central Asia.
Mr. Pradhan is a global spokesperson and distinguished speaker on open governance and anticorruption issues, appearing in major world forums including the TED Global Conference, the UN General Assembly, the European Parliament, the BBC World Debate, South by Southwest (SXSW), London Anti-Corruption Summit, IACC, and OGP Global Summits in Europe, Asia and the Americas. He has published widely and was a principal author of the 1997 World Development Report, The State in a Changing World. He holds a Ph.D. in Economics and Business and a Bachelor's degree in Economics from Harvard University.
---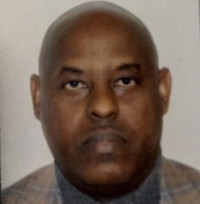 Ephraim Murenzi is the Program Officer: International Taxation at ATAF where he coordinates the activities of Exchange of information for tax purposes at the Secretariat. He worked in Rwanda Revenue Authority for 10 years both in Customs and domestic Tax. Ephraim Murenzi is also a former Rwandan diplomat in Nairobi where he served as deputy head of Mission from 2005 -2015.
---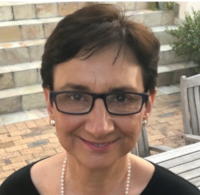 Trudi Hartzenberg is the Executive Director of the Trade Law Centre (tralac). 
Her research is in the areas of international trade, competition policy, industrial development and Africa's integration agenda.
She has a special interest in, and commitment to capacity building.  She designs and delivers academic and tailored short courses 
a broad range of trade-related topics, investment, competition policy and industrialisation.
She currently serves on the WTO Chairs Advisory Committee and is a member of the Committee for Development Policy of the
United Nations Economic and Social Council (ECOSOC).
---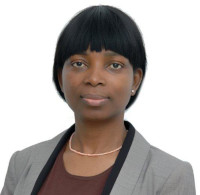 Dr. Temi Abimbola is currently a Lead Advisor to the Senior VP of the African Development Bank (AfDB) where she is primarily working on the institutional reforms and the Bank's African Transformative Agenda. Prior to her Advisory role, she was the inaugural Manager for Program Design & Development Division of the African Development Institute.  Before joining the AfDB, Temi was an Associate Professor at Warwick Business School, The University of Warwick, England; and an Adjunct Professor of Quantitative Analysis for Decision Making at CEIBS (China European University), Accra Ghana. She holds a PhD in Management Science, from Aston Business School, Aston University, UK.
Dr. Abimbola's focus in the academia was primarily that of supervising Executive MBAs', MSc, and Doctoral candidates, teaching and research. As a practicing strategist, Temi is very adept with extensive experience of working on institution/organisation transformation and business process re-engineering; of which she has accumulated and honed from her earlier work at British/American Chamber; Shell-UK downstream Oil and at Unilever Corporate HQ (UK).
Dr. Abimbola is a topical speaker on African's financial and economic development at various for a including as an invited speaker. She is a pro-bono Senior Advisor for OOF's Founder and Chair, H.E. Olusegun Obasanjo, she was an inaugural advisor for and member of the DMG Advisory team of the Global Africa Investment Forum.
---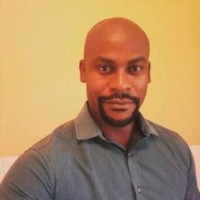 Dr Misheck Mutize is the Head of Credit Ratings at the African Peer Review Mechanism. He holds a Doctor of Philosophy degree in credit risk and a Master of Science degree in Finance and Investment from the University of Cape Town. He has researched extensively on Credit risk in Africa, African governance policy, state-owned enterprises, corruption, poverty and other socio-economic development. Dr. Mutize has published comprehensive researches on Socio-Economic Development, Political and Economic Governance in Africa. 
---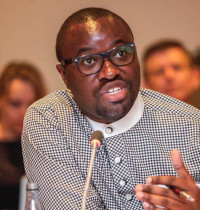 Theo Chiviru is a governance expert with experience supporting governments and civil society to develop and implement governance reforms in Africa. Currently the Team Lead for Africa and Middle East at the Open Government Partnership (OGP). He leads the region's strategy development, advocacy, fundraising, and establishing a wide range of partnerships with multilateral organizations, civil society organizations and governments. Prior to joining OGP, Theo was a Policy Manager for Transparency and Accountability at ONE Campaign where he led policy projects and government engagements on governance, debt, public service delivery and financing for development in Africa. He has managed research, advocacy and policy programs working with organisations such as Institute for Democracy in Africa (Idasa), Catholic Bishops' Conference and, Save the Children Sweden. Theo is the founder of NewThinking Development, a start-up initiative that encourages collective action between government, business and civil society to promote citizen focused innovation and policymaking in Zimbabwe.
---
Elizabeth Adongo Oloo is currently the Senior Policy Advisor and head of the Office of the Cabinet Secretary, Ministry of Public Service and Gender, Government of Kenya. Prior to this, Ms Oloo was an Advisor to the Cabinet Secretary, Ministry of Devolution and Planning. Her special focus has included public service governance, human development, public service reforms. In addition, Ms. Oloo is the current National Focal Coordinator for the Honest Public Service-Huduma Halisi Campaign. Between 2013 to 2016, Ms Oloo served as Governance Specialist in human development and public service in the Ministry of Devolution and Planning, and worked within a specialist team to review and analyze Kenya 's ranking in several Kenya's global indices including; Country Policy and Institutional Assessment (CPIA), Ibrahim Index of African Governance (IIAG), Human Development Index (HDI), and Corruption Perception Index (CPI). The outcome of this assignment included the presentation of high level policy and administrative recommendations to inform policy and decision-making in Government with the aim of strengthening and improving the Country's overall governance and public administration . Ms. Oloo's career has spanned many of the UK's highest-profile regeneration initiatives, including the New Cross Gate New Deal for Communities, one of UK government initiative to devolve central government powers and policies to local structures. In 2008, Ms. Oloo was elected as the Chairperson of the New Cross Gate NDC Board oversighting a £45 million area based regeneration programme, London. Ms Oloo holds Bachelors' degree from University of Reading University and a Masters' Degree in Human Resource Education from University of Goldsmiths. Ms. Oloo has served on several International Boards and has attended various local and international courses on management. In April 2006, she was awarded the London Mayors Award in recognition of her contribution to London, UK.
---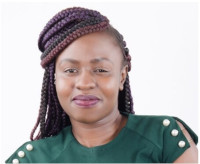 Anika is the East Africa Co-ordinator for AMPLIFY GIRLS. She recently joined AMPLIFY GIRLS from the Green Congress of Kenya (a member of the Global Greens) where she served as Executive Director. She garnered vast experiences working with grassroots community environmental organizations which consisted primarily of women and girls.
She is an experienced advocate for the rights and tenets of democracy with a passion for all matters women rights and movements, democracy and governance. She is a feminist who believes in investing in the strengthening of young feminist movements and youth led organizations. In addition, she is Pan African, Social scientist adept in national, regional and global Partnerships, Policy & Advocacy work. Her vast knowledge and experience on regional and global instruments in policy and advocacy e.g. Development of Action Coalitions s on Generation Equality, Youth Design Sprints by UN Women centering the meaningful participation of young women and girls & A Girls Platform for Action by Plan International have enabled her to advocate for critical issues affecting young women & the girl child at regional and global level. Ms. Anika is part of the 30 global youth task force of the Beijing +25 Review by UN Women in an effort to represent and advocate for the youth at the global level an effort to achieve Generation Equality in the implementation of the Beijing Platform for Action. She is also part of AWLN (African Women Leadership Network) technical committee in Kenya. Lastly, she is a ONE East Africa Champion where she lobbies decision makers in effort to create changes needed for gender equality. Ms. Anika holds a Masters in Women, Leadership & Governance in Africa from the University of Nairobi.