The Economic Commission for Africa's annual Adebayo Adedeji Lecture will this year interrogate ideas, identify action areas, and propose tangible suggestions for debate and consideration by the continent's policymakers on the historic and game-changing African Continental Free Trade Area (AfCFTA). 
The landmark AfCFTA has the potential to create a continental free-trade zone with a combined Gross Domestic Product (GDP) of USD$3.4 trillion, becoming the largest in the world, if fully implemented.  
The lecture, which was set up to honour the late Professor Adebayo Adedeji, who was one of Africa's foremost development thinkers and the longest serving ECA Executive Secretary, will be held during the think tank's annual Conference of Ministers under the theme; "Towards a Developmental Approach to the AfCFTA".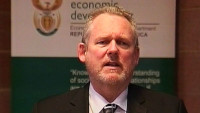 South Africa's former Trade and Industry Minister, Rob Davies, will deliver the 2021 Adedeji Lecture.
Dr. Bob Davis' Bio and About the Annual Adedeji Commemoration Lecture Series
---
Towards a Developmental Approach to the African Continental Free Trade Area (AfCFTA) - Presentation by Rob Davies
---
Stories
---
 Videos