By: Gender Equality and Women's Empowerment Section, ECA
Addis Ababa, 11 March 2023 - As we recently celebrated International Women's Day with the theme 'DigitALL: Innovation and technology for gender equality', it is crucial to examine the progress of women in Science, Technology, Engineering, and Mathematics (STEM) fields, including in Africa.
To shed light on this, ECA's gender section has published a new infographic (see below), highlighting the state of women in STEM in Africa. The findings are based on a new report by the gender section on leveraging digitalization for gender equality and women's empowerment.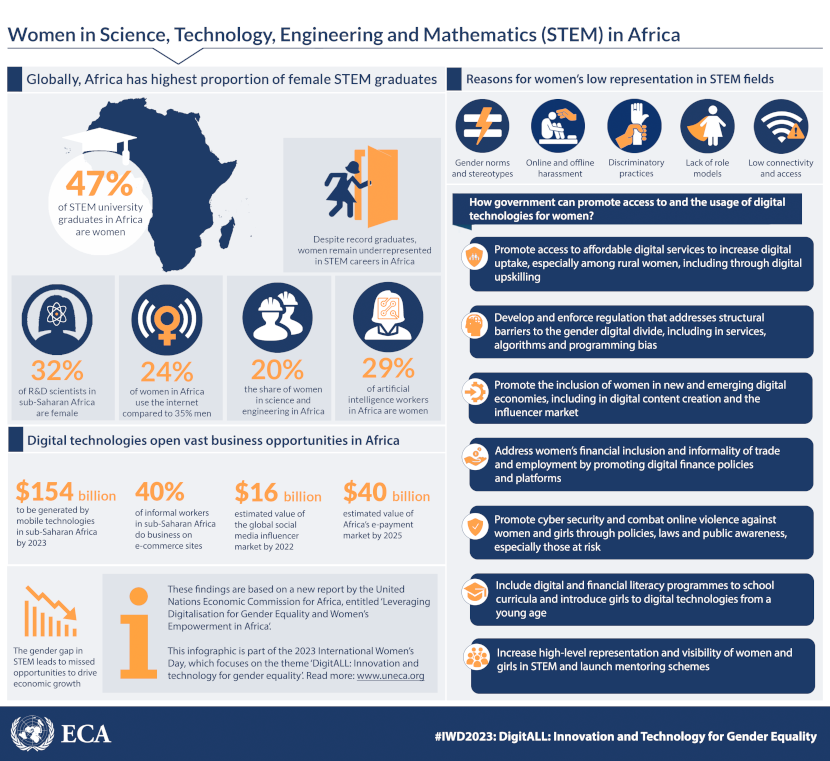 (Click on the image above to enlarge)
Despite making substantial contributions to STEM fields in Africa, women still face significant barriers, such as gender bias, lack of representation, and limited access to resources. The infographic offers insights into how government can address the gender gap that keeps women from unlocking technology's full potential.
As we move forward, let us celebrate the remarkable achievements of women in STEM and recommit ourselves to supporting and promoting gender equality in all aspects of life.
To read the full report, please visit: https://bit.ly/3SWFYqa